Social Events Programme
Last update: 5th July 2021
Holiday to Ilfracombe
Mon 11th- Fri 15th October 2021
Staying at Dilkhusa Grand Hotel, Ilfracombe. The above holiday is full, but if you would like to be on the waiting list, please contact Ron W. The overall cost is approximately £310.
Martin H. has again kindly agreed to lead the long walks. If anyone who was willing to lead a short walk please contact Martin.
AGM in Wanstead Library
Sat 13th November 2021 at 4pm
Save the date!–this year's Redbridge Ramblers AGM will be held on Saturday 13th November at 4 pm in the Wanstead Library. The agenda and more details will be published in the next Newsletter (Winter 2021/22) in October. There will be a walk before the meeting around Wanstead which should finish at the George for liquid refreshments and/or food before the AGM starts . (see Walks Programme for more details).
2022 Holiday in the Cotswolds
Friday 1st to Friday 8th July 2022
I've now had 45 of you contact me to say you want to go on this holiday next year and have gone ahead and confirmed that we will be booking a 7 night stay with Holiday Fellowship (HF) at their Harrington House accommodation at Bourton on the Water in the heart of the Cotswolds. (Friday 1st to Friday 8th July 2022) Other options were found to be too expensive particularly for those wanting single accommodation. We are going in peak season to a very popular holiday area and this is reflected in the cost of the holiday . The club has now paid HF a holding deposit (of £250) to secure our booking and our HF Self Guided Walks deal offers us all of the following :- • 7 nights dinner/bed/breakfast and packed lunches on our walking days (6)-FULL BOARD. • Sole occupancy of the accommodation providing that our party is a minimum of 37 people • No single room supplements are applicable although the number of single rooms will be limited but will try to maximise this as best I can . (IF YOU ARE WILLING TO SHARE A ROOM PLEASE CAN YOU INDICATE THIS ON THE BOOKING FORM AS THIS WILL OPTIMISE HOW MANY PEOPLE CAN GO AND BRING THE PRICE/PERSON DOWN FOR EVERY-ONE) • A deposit of ~£100 /per person is now requested by the 22nd August 2021 with the full balance due 6 weeks before departure date (~ mid May 2022)-see booking form on next page. • We will qualify for 1 free place for every 15 guests -full details of cost of the holiday are still being worked out (see below)
The accommodation is at a bespoke Walkers Hotel with boot room and drying room (if needed?)/ bar/dining room /lounges/meeting rooms etc .HF have an excellent reputation for walking holidays The link below will give you more details of HF's Harrington House and its facilities- it is very close to the centre of Bourton on the Water. Hotel I've made a booking with the only coach company (Pulhams) with a licence to drive into/out of BotW for journeys from Wanstead /Woodford Green to BotW and back plus daily transport thro'out our stay.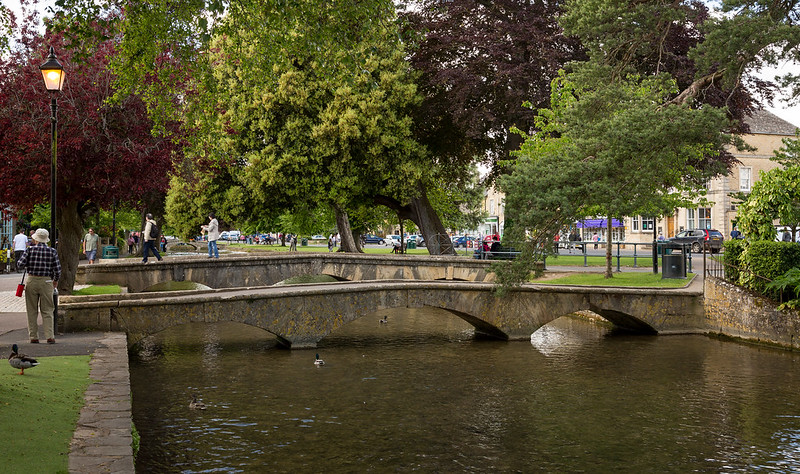 The itinerary for the holiday is still being worked up but it will follow previous RR summer long walk holidays. Viz:- *We plan to walk to Cotswold Ring LD walk (see link below ) over 6 days of walking—walks of ~10 miles /day around some of the iconic villages and walking areas of the Cotswolds . Total circular route is 61 miles. Hopefully Martin H and myself will share the walks leadership each day . *We will try to have a half way break at a pub each day so that anyone not wanting to do the whole day can opt out then -and travel back to base by coach. *People wishing to do their own thing are very welcome -Bourton on the Water is a lovely Cotswold village and is surrounded by well marked footpaths( Windrush Way/Monarch's Way/ Oxfordshire Way/Diamond Way/Macmillan Way/ Gloucestershire Way/ Heart of England Way , to name but a few!) and HF usually provide good local walks information/maps . Cotswold Ring
Holiday Costs (tentative) The full cost of the holiday is expected to be around £775 per person, depending on the final number of participants. Neville B.
Booking Slip see p10 of Newsletter.
Recent events
Roger Young's Memorial walk
Sun 20th June 2021
Martin H. led a walk in memory of Roger Young which was attended by 15 members from both West Essex and Redbridge Ramblers walking groups. The route was in one of Roger's favourite areas –a challenging 21 mile walk from Chingford to Waltham Abbey then onto Epping and finally back to Chingford with drop out points at 7 miles (Waltham Abbey) and 14 miles (Epping). Roger left us just 3 years ago-a great man and such a sad loss to Redbridge Ramblers . We all remember him with great pride.
Sidmouth Holiday Report
Monday 24th to Saturday 29th May 2021
35 of us were all congregated outside the co-op in Wanstead and/or at Hawkey Hall in Woodford Green, on Monday morning waiting for our coach. After all the time in lockdown we were going on holiday to walk the East Devon Way, much more exciting than the very local walks we had all got used to, yippee! As we were driving through the various counties we encountered many showers so, by the time we stopped for Martin's optional walk to the hotel, very few people got off (8)and walked in the heavy rain. Ron led a much simpler walk around Sidmouth when we had settled into the hotel.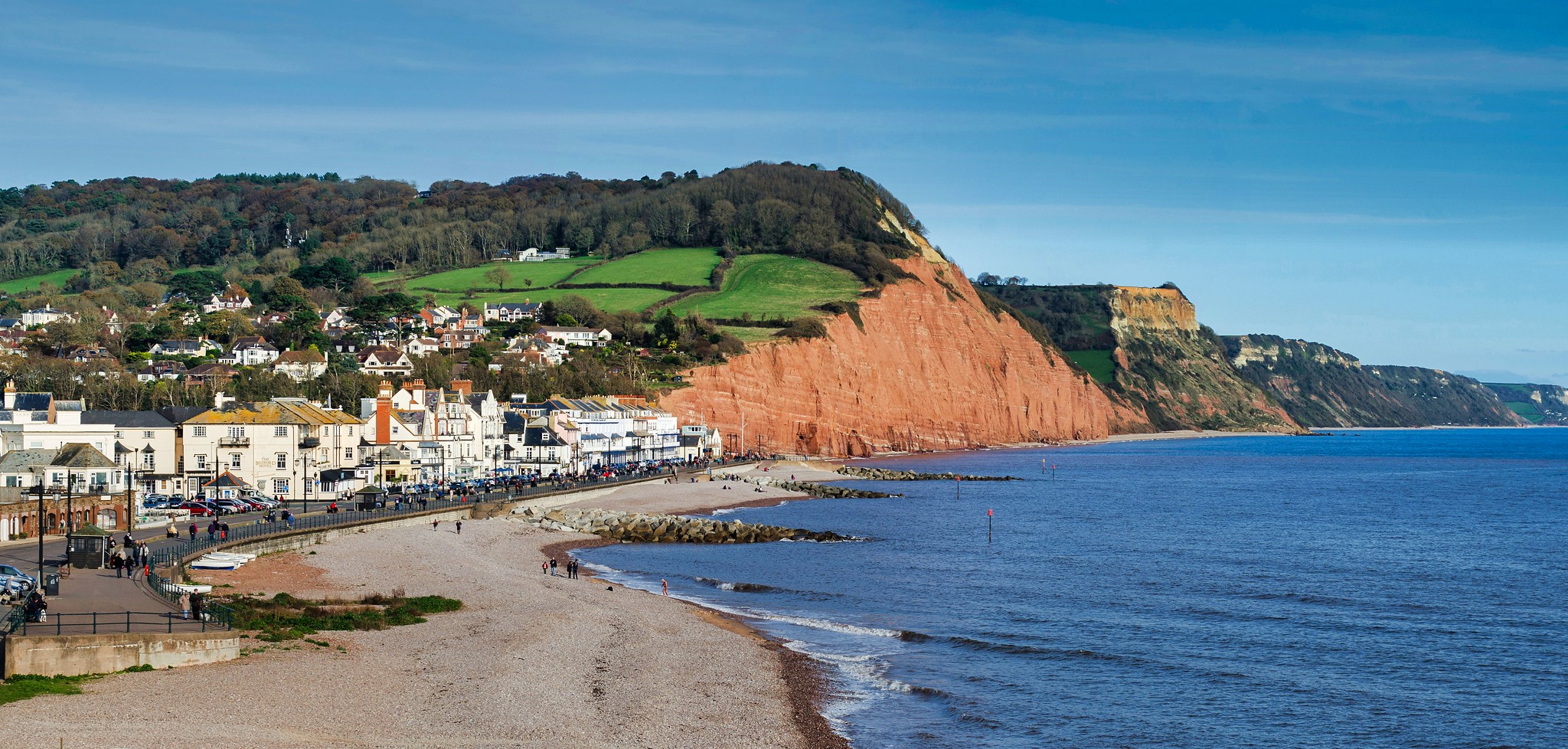 After a hearty breakfast on Tuesday many walkers boarded the coach for the first leg of our walk, which start-ed off dry and quite a pleasant walk, despite the muddy conditions. We had our morning coffee break at Woodbury Castle, which is a large Iron Age hillfort overlooking the Exe Estuary. As the rain came down, and Martin made a few detours to avoid extremely muddy paths, we finally got to the national trust lunch stop at 3pm. The short walkers left for the coach having walked well over the predicted 7 miles. It must have been a welcoming site to see the coach arrive. Meanwhile we walked on in the pouring rain along stone narrow paths and muddy fields over many styles until we reached Exmouth.
By Wednesday the weather had changed and for the rest of our holiday we had dry, sunny days. The 2nd leg of the walk was a pleasant country ramble with some stunning views, pleasant streams and waterfalls. The afternoon was more challenging with a very steep rocky incline to challenge us at the start and, when we thought we were nearly finished, a sharp hill on a tarmac path, which really tested the leg muscles. Eventually seeing the coach caused us all to cheer.
On the Thursday, with Ron and Naomi offering an alternative short walk around Sidmouth called the Tree Trail (see photo on page 5) and others did their own thing/agenda, only the hardy walkers, that's the polite de-scription, did the 3rd leg. From Colyton to Musbury we walked through a nature reserve and encountered miles of farmland where Martin shooed away the cows so we could cross safely and many electric fences where we had to find the allocated crossing point. Walking through the green fields we could see open topped trams full of holiday makers waving to us. I wonder what they were thinking. We crossed the electric tramway by duck-board and then a style followed by many more while walking along the River Axe. We finished the walk and had a pleasant hour in the beer garden of the village pub before going back.
On the Friday we had a packed coach. The walkers got off at Musbury to finish the last leg, while anyone wanting a leisurely day stayed on the coach to Lyme Regis, which was our lunch time destination. The morning's walk was very pleasant, having our coffee break in a lovely churchyard and seeing breath-taking views, we finally finished The East Devon Way (all 40 miles of it!) with all who walked it entirely having a victory photo taken. (see page 4)We then followed the River Lyn to Lyme Regis in Dorset less than half a mile away. Nine of us joined Martin for the optional afternoon walk from Lyme Regis undercliffs to Ax-mouth, through a nature reserve and goat island with many steps up and down. Not for the faint hearted is the only way to describe it.
Members choosing a more relaxing holiday enjoyed walks along Sidmouth seafront, which you could see from the hotel; many of us having sea views, walking up to the Connaught Gardens, browsing the shops or taking a bus to a nearby beauty spot to walk. We all had a most welcome holiday, in a beautiful part of the UK, meeting up with friends, however we spent our days. The hotel was amazing and the food excellent. You got us a fantastic deal, Ron - thank you to you and Naomi for all your organisation.
A big thank you also to Martin for arranging and leading all the walks.
Marie B